I lost my glasses this week :/ I think the car wash people stole it >_< I ALWAYS keep them on the side driver's door compartment of my car...when I was going to drive home from Jordon's on Tuesday night.. I couldn't!! I need my glasses to see at night. I can do fine during the day but night.. nooo... lights make weird glares.
So, I went to the eye place today, got my check done, ordered new glasses which should be coming in this week! ;D I needed new ones anyway, it's been over 2 years since I've had new ones.
My parents are going to be going away in a week, for a week to the Philippines.
My grandma has been diagnosed with Leukemia :/
I don't really remember her at all, but it's still sad. I'm not going because that will just make the trip even more expensive on my parents (my mom is stressed out a lot about it) and my dad wants someone to stay and watch the house. Not to mention the cat :P Plus I got school (finals that week that they're gone) and I don't have a passport lol.
Anyway.. onto the Sephora Eyeshadow swatches!
My first time owning Sephora eyeshadows!
California Blonde, Golden Girl, Tiny Bubbles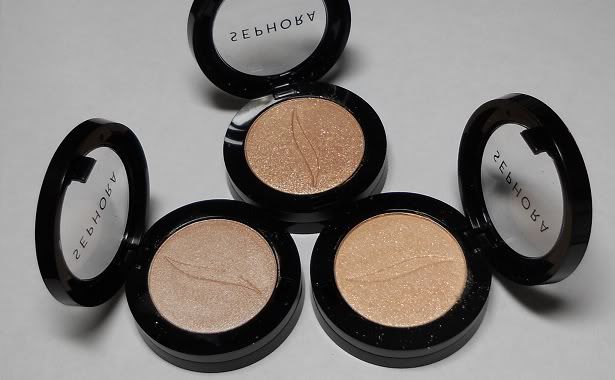 HD lamp lighting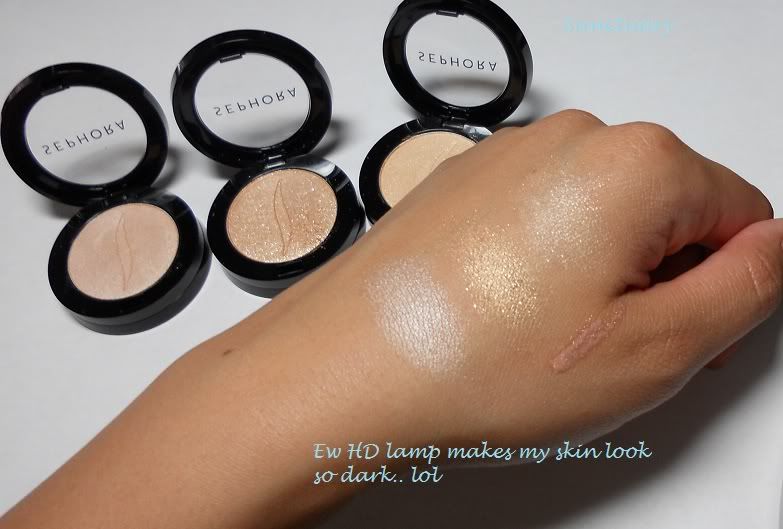 I'm obsessed with these colors right now!
The lipgloss is Korres Natural Products Cherry Full Color Gloss in Beige Pink.

I'm not liking the color too much on me, it looks way different in person than in the pictures.. >_<
My lips have somewhat of a purpleish-tiny bit of pinkish, brownish tint to them. With this lipgloss it kind of looks "silverish" on my bare lips. If I do wear it, I will DEFINITELY put a darker lipstick on under.
The lipgloss isn't too sticky, but sticky enough that it would stay on for awhile. The cherry flavor isn't an overwhelming medicine cherry taste, so that's good!
FOTD :P I suck at makeup so don't judge me! lol!
I look kind of mad in this pic haha, but whatev :]
I have the eyeshadow colors on and an Elf bronzer which is a bit hard to tell because of the exposure lol. Whatever I was lazy to take a better picture. Sorry!