So, I'm a very simplistic person, who likes to keep things as simple as can be :P But then again, even complex things in life can be good ;]
Here's how these earrings came to be~
I ruined one of the ear hooks on earrings I made for myself (comb got caught in them... >_<).
Note to self: put long dangle earrings on AFTER brushing/combing/doing whatever to your hair... >_>
The comb yanked the earring out of my ear...it hurt! And it was bleeding :[ anyway!
I was remaking the earrings and I figured I would make some of the same style because I had extra swarovski beads that I had no idea what to do with them!
One... crystal clear helix beads that I bought to pair up with a swarovski moon in a necklace during my Twilight craze..but never did since I learned the story of Twilight and got freaked out by Stephanie... Then I meant to order "crystal clear swarovski stars" but... I didn't realize I ordered "crystal silver shade" stars instead >_> So here are the random earrings! They're very simple..but I love how they look in person! I'm definitely having pairs of these for myself!
They're little, simple, and not much, but remember, sometimes it's the little things that make us happy =]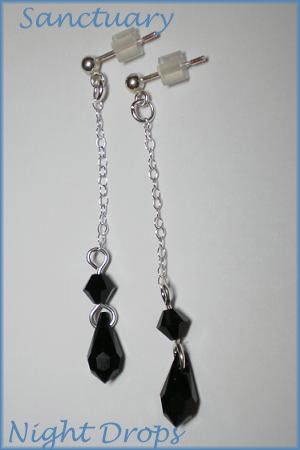 Night Drops Earrings
All sterling silver. Jet black swarovski bicones & teardrops.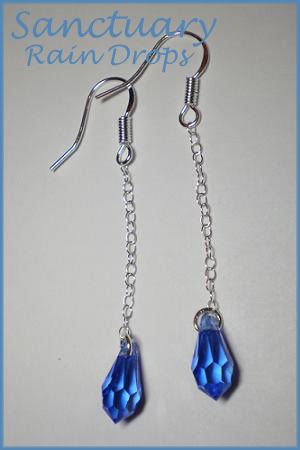 Rain Drops Earrings
All sterling silver. Sapphire swarovski teardrops.
Crystal Drops Earrings
All sterling silver. 8mm swarovski crystal clear helix beads.
Starry Drops Earrings
All sterling silver. 8mm crystal silver shade swarovski stars.


On a side note... I've been watching the TV series Friends a lot lately. I have the DVDs seasons 6~10! I started with 10..then 9..and so on :P haha going backwards! ...No matter how many times I watch it, it will make me laugh every single time.
A water bottle spilled in my purse yesterday :[ (apparently I didn't close it enough..)
It spilled on everything in my purse.. including my 32GB IPOD TOUCH!! D:!!!! My mom got it for me last year (2008) for Christmas.. SO IT'S ONLY A YEAR OLD! The touch screen stopped working and it kept opening random apps without me telling it to. Oooh I was sooooo pissed / sad. Me + water + electronics = never good.
I have had 2 to 3 phones die because of water (water rides at Disney Land) ...then once my ex tipped me over a water fountain at Fashion Island (not a drinking water fountain) he lost his balance.. I lost my balance.. my purse DIPPED into the fountain.. oh my god. My BRAND NEW IPOD TOUCH, only 2 WEEKS OLD was dead. I swear I wanted to kill him lol.
He took it to the Apple store and were going to make him buy a new one (he didn't have a job either!!) Lucky for him... the guy who worked there replaced it for free. VERY lucky for him... we had just started dating and he was afraid I was going to break up with him lol.