The sunset picture I took on the San Clemente Pier
Hair tie!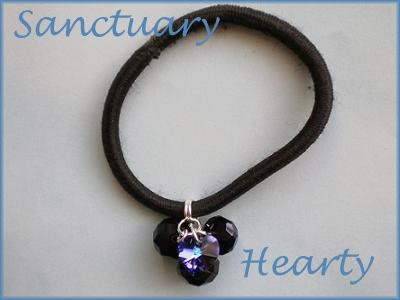 Additional Picture
Additional Picture #2
Hearty Hair Tie
Sterling silver jump rings. 10mm swarovski crystal jet rondelles & a 10mm swarovski crystal heart in heliotrope.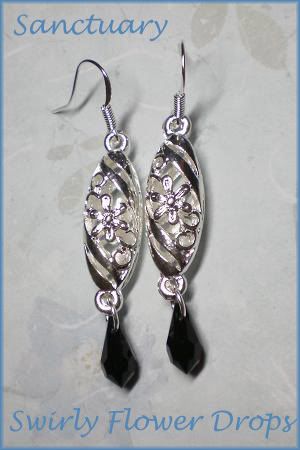 Swirly Flower Drops Earrings
Sterling silver hooks, flower connectors and black jet swarovski teardrops.
Kitty Love Necklace
14mm violet swarovski heart, 10mm crystal golden shadow swarovski heart on sterling silver bails & a sterling silver cat charm.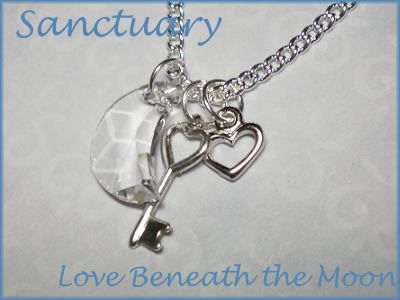 Love Beneath the Moon Necklace
16mm crystal clear swarovski moon, sterling silver key/heart charm & rhodium heart charm.
Custom alterations/requests:
LOL I SPELT SKIES WRONG.
Wow how did I not notice that. Well, I'm lazy to edit it. so deal with it :P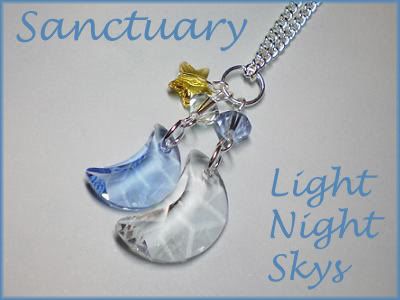 Light Night Skies Necklace
20mm crystal clear swarovski moon, 16mm light sapphire swarovski moon, 8mm light topaz star. bicone swarovski crystals.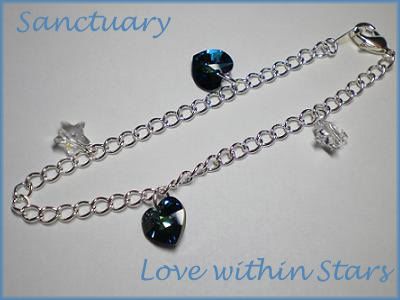 Love within Stars Bracelet
10mm bermuda blue swarovski hearts & 8mm crystal clear swarovski stars.
I finally watched New Moon! I definitely like this one way more than the 1st movie. Taylor.. wow lol. When he like,...."ripped" off his shirt when Bella crashed off the bike and hit her head...ooh my gosh... lol those muscles :P

And I just watched the latest episode of Vampire Diaries just now :o I still like Vampire Diaries more, I think >_<
Honestly, Bella's personality is kind of starting to annoy me...

My face is finally clearing up after 1~2 weeks of being mad at it! yay! (haha you know, breakouts).
After I read
Iyah's post
on reviewing ICQU, and what she found out about mineral oil.. I checked my stuff... The night lotion I use has mineral oil. THE 2ND INGREDIENT ON THE LIST! ahhhhhh so I haven't been using that for the past 3~4 days. maybe that's helping my skin clear up? I just bought a fresh new bottle of that lotion too haha. I gotta find a new one!
Jordon & I are going to try going on a diet....AGAIN.......LOL
Mine is, I'm gonna eat salad
and he's gonna eat canned tuna
(he said he did that before when he dropped like 20 pounds in the past)
Sooo lets see if we can keep it up!
We couldn't pass up taco tuesday yesterday though! :P
My lunch! Salmon with salad (House Italian Dressing) and cauliflower with cheeeese (LIGHT CHEESE! lol)
Picture is blurry when it's big! I moved the camera o-o
Salmon is my favorite fish!
I got lazy to keep up with updating the health blog LOL so i'm just writing it down now instead :P
I THINK I'm noticing an improvement in my ass firmness cause of the gym!! ...I dunno lol.
Finally got my candle setup thing going on! It looks better lit up.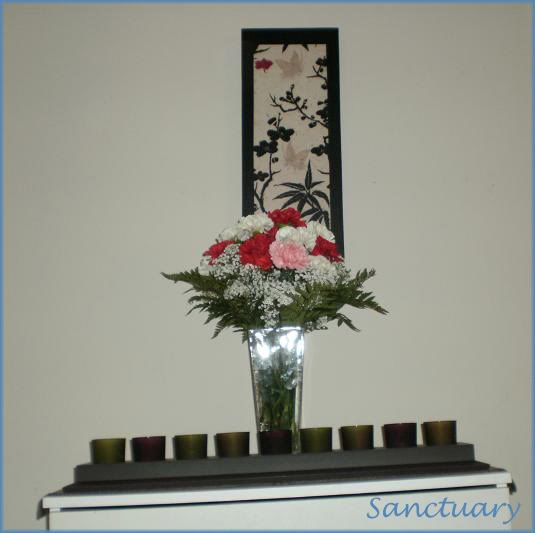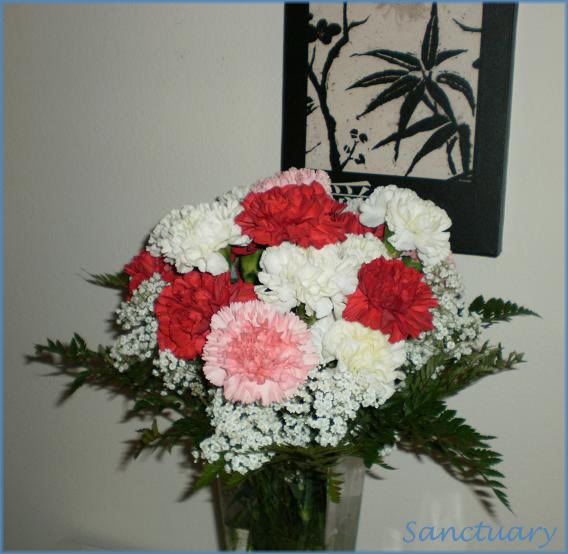 I like carnations.
I gave this to Jordon. Got the idea from a post that Melissa put up ;]
Jordon likes playing card games..Spades, Poker, Blackjack..