What has everyone been up to? I feel so busy since the summer started!!
I'm sure everyone knew of the Semi Annual Sale here this month (mainly Victoria's Secret and Bath & Body Works call it that). I went ahead and bought about 8 shirts and one yoga pants featuring the Angels (baseball) from Victoria's Secret! I convinced my Bf to buy me them those pants ;p Once I bought one shirt, I just wanted more because they're just so light and comfy! PERFECT for summer :]
Onto jewelry!
thanks to all of you who placed orders this week! keeping me busy ;] i love it haha
Since I changed the name from Sanctuary to Jujubeads.. I obviously don't have ALL my jewelry pictures labeled with Jujubeads yet. I'm gonna be doing it as jewelry is ordered...because that is just way too many things to make for no reason haha :p
Lulu
's requested alteration of the famous Golden Blossoms bracelet:
Lulu's Silver Blossom Bracelet
Swarovski Crystal rondelle spacer, 10mm Swarovski Crystal Heart in Crystal Clear, two Swarovski bicones in Crystal Golden Shadow, Crystallized cream pearls. $11
Giang
also asked me to make a matching necklace to the Golden Blossoms bracelet, which I will work on either LATE tonight or tomorrow :]
White Sandy Shores Earrings
All Sterling Silver.
Seashell flat teardrops, Swarovski Crystal Rondelles and stardust beads. $5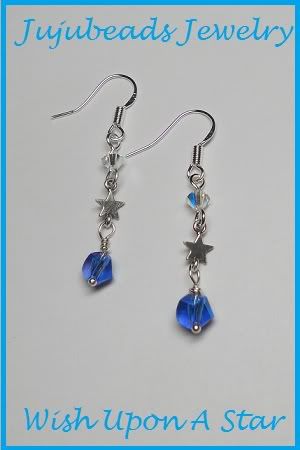 Wish Upon A Star Earrings
Sterling Silver.
Swarovski Crystal bicones in Crystal AB and Sapphire Swarovski helix beads with star connectors. $5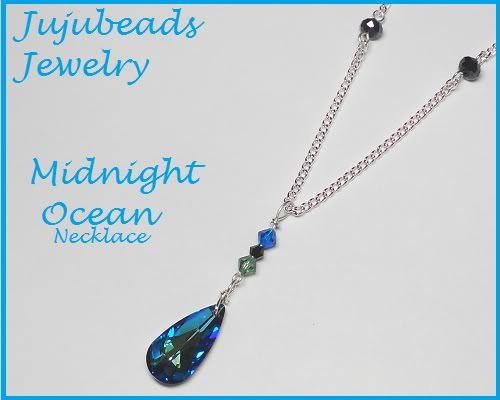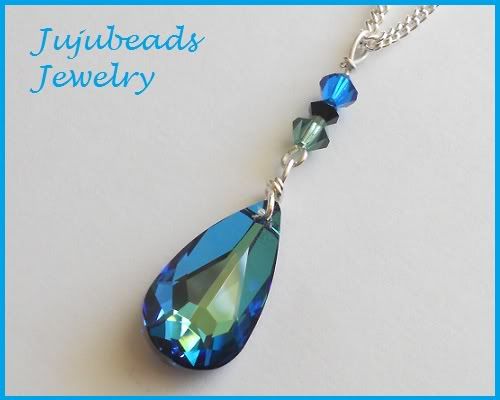 Midnight Ocean Necklace
25" long. 24mm Swarovski teardrop in Bermuda Blue, Swarovski Bicones. Sterling silver wire wrapped. $14