Thanks to those of you who left some feedback on my most previous post. I appreciate it. I'm glad to know people do check out my blog :] heh

And now thank you for those who left some on this post :]
<3
@Stacey: that's exactly what I'm trying to do, put it low... get a little known, then start slowly putting prices up slowly :]

So, I'm sorry to some of those other jewelry makers whom I might have "stolen" a customer's order from because of my prices, do appreciate your work too! but as others have said, I'm just doing what I have to do to get a little known :]


The main reason why I don't price my jewelry up to match other jewelry makers,

is

not

to shut them out

, but just because I think that if I have my jewelry at higher prices, no one would buy it! (Of course I would

love

to have my jewelry at higher prices, hah)
(Example.. cluster bracelets, I've had a few for a few months, priced around $24, no one bought them, and suddenly when I had them on "sale"for $15, then people bought them! But I put them back up to the $20s zone again. They do take awhile to make after all! But they're so nice when they're finished :D ) I am very slowly increasing the prices though, but my main goal I've been been doing is to not price any piece above $10 unless it REALLY needs to be.

Yea i know some of my pricing on stuff is a bit off... >_> i think i should be pricing my ear cuffs more.. but i dunno since some of the materials to make a few of them doesnt cost a lot compared to other ear cuffs!
Okay! I've seriously been dying since Tuesday....I've been so sleepy/tired and stressing about this exam I had today. In fact, it's like every week now, this 4 unit 8 week class is INSANE. I REALLY wanted to make more jewelry tonight, but I think this is all I can do for now. I'm so sleeeepyyy. (Stayed up late studying last night & woke up early to study some more!) Iiii don't think I did too well on that exam though... :/ It's one of the HARDEST in that class. The rest are a breeze compared to it.
Okay enough of my rambling and onto some cute bow earrings! I know, the name is lame, but blame my brain dead..brain. :p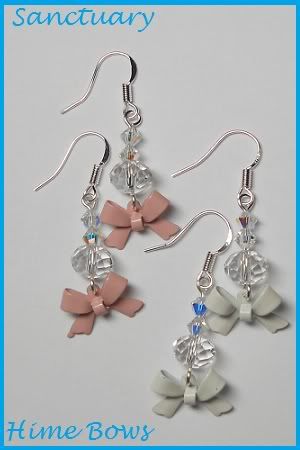 Hime Bow Earrings
Comes with pink or white metal bows. Sterling silver hooks & pins. Crystal clear Swarovski rondelles with crystal AB bicones.
Lets see if i can manage to make something else, I've really been in a bracelet mood lately and I got tons of new stuff for bracelets!