It was Jordon & I's 6 month anni on April 2nd :]
And we're still very much still into each other :P
My longest relationship was 2 1/2 years, and that was torture for me (didn't like the guy). So I told myself after that, to just break it off if I know I'm not happy. Broke it up with my previous ex after 6 months. ....and I definitely don't want to break it off with Jordon! :] I know you read this and I'm not just saying it! :P I love you hun :]

New makeup yay. Pic taken with my new cam :] My eyelashes are kinda being weird.. and like falling out :[ I don't know if it's because I'm rough or something when taking off my makeup or the mascara. I was using Lash Blast... this new one has collagen or something lol. I wanna test out the makeup but I have some on and I'm lazy to take it off.. >_>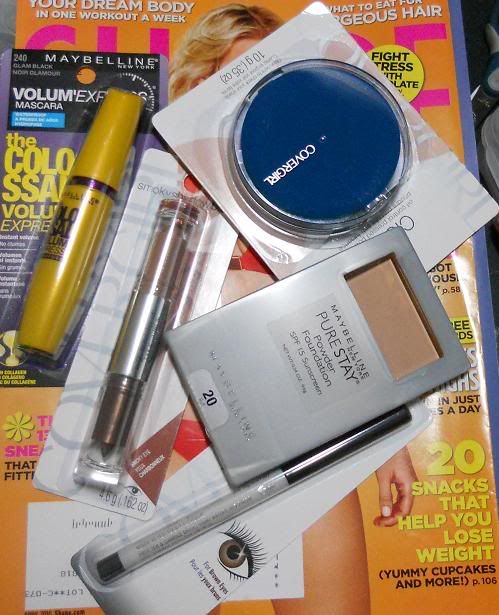 Uh oh this new camera sucks at doing macro shots.... it took me about 40 pictures to get a picture of earrings >_< ahhh i guess I gotta play around with it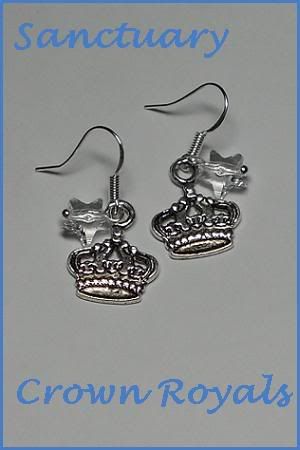 Crown Royals Earrings
Sterling silver hooks & pins. 8mm swarovski crystal star in crystal clear.
I got a new camera like I said I would
! Yay! This one is definitely much more simple than my Olympus. Not that I don't like complicated, but I do think I like it much better. The "auto" default that most cameras start off on, it's much faster at taking a picture than my dead Olympus. I love small thin cameras because I like to carry it in my purse. I was more interested in a certain Sony Cyber-shot but they didn't have it :/ I gotta say, I'm actually surprised with this camera...so far. Gotta test with a jewelry picture in a few min! :P
Going to the Angels games on Monday & Tuesday night! Anyone else going?..that lives in So Cal haha.
I got these new crown earrings, and I'm thinking about making a set with them...after I finish orders.
I'm going on a cruise next January! :o

I'm still keeping up with eating yogurt everyday! yay! :D Today.. I bought some toasted coconut vanilla flavor (i love coconut).. banana creme pie & red velvet cupcake. Gonna go get one now :P
...isn't this a sexy picture of
Iyah
? :D She's earring one of my earrings in it too :]
My mom thought of the name Jujubeads Jewelry for my jewelry ahaha. To change the name, sounds kinda catchy, lol. Who likes it?